We are so excited, that soon on the 4th – 5th October we will finally meet face-to-face with our Business Support Program participants at the workshop "Digital story production" at Lapland UAS, Tornio.
Two-days program is full of different sessions, key notes and discussions. Furthermore, entrepreneurs will have a great opportunity for a cross-border networking.
Meet our speakers
On the first day of the workshop our expert Antti Haase will give some insight on how to make a movie yourself or what to take into account while hiring a professional for video production.
Antti has been working closely with companies by providing support on story's script line. With his keynote entrepreneurs will continue towards digitized story.
Antti is an internationally awarded director and screenwriter from Lapland. Antti works as a project manager at Lapland University of Applied Sciences, specializing in facilitating creative processes and crafting powerful stories. He directed e.g. Monsterman (2014) documentary about the Finnish Eurovision winner – Lordi. Visit Antti's filmmaker website
The second day of the workshop we will start with the keynote from Erson Halili – project planner from FrostBit Software Lab Currently. He is engaged with several national and international projects that aim to utilize extended reality (VR/AR) solutions in tourism, healthcare, business, forestry, cultural heritage, etc. Erson expertise unfolds where psychology and media connect. He is an advocate of utilizing design thinking and service design methods to create meaningful and user-centred digital experiences.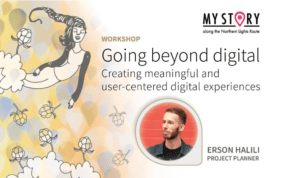 As the tourism industry was heavily disrupted by the pandemic, only a few tourism companies managed to shift to online services. This was mainly due to the lack of know-how about the digital tools and how to integrate them into their businesses.
While everyone is racing to provide digital services, it is essential to understand the right technology that adds value to your company. In addition, we often think that technology is the ultimate solution, while we neglect the importance of deep customer understanding, co-design and design thinking. After all, technology is an essential part of creating the customer experience; however, it should not replace traditional tourism experiences but rather enhance them.
Erson's presentation will feature a few concrete use-cases that he and his colleagues have worked on recently at FrostBit Software Lab. Moreover, the keynote will be a walk-through of the key processes in the digital experience design and development process illustrated with a demonstration live on stage.
We are so eager to see you soon!